Thanks
Josh Marshall
Many thanks to everyone who signed up yesterday for our Prime AF (Ad Free) trial. If you're a member you can try it out for two weeks with no additional cost and no obligation. I promise you'll find it a big improvement and it's a big help to us every time someone upgrade. Just click here to give it a test drive on us.
| News
Richard Trumka, president of the AFL-CIO labor organization and a close ally of the Biden administration, has died.
Read More
| News
Now that the bipartisan infrastructure plan has been fully defined and delineated, the mad scramble for advocacy groups to get their priorities into the reconciliation vehicle begins in earnest.
Read More
| Prime
How did Tucker Carlson end up in Budapest?
Read More
| Cafe
Hi my name is Jackie, and I think I am a (classics) book snob.
Read More
| Muckraker
It's a short jump from one Big Lie to another.
The man who Trump sought to appoint as his pocket attorney general is now working for a non-profit that is fighting COVID-19 vaccine mandates and other public health authorities issued during the pandemic.
Read More
| News
As the Jan. 6 committee holds its first hearing Tuesday, lawmakers' primary focus will be the storming of the Capitol. Law enforcement witnesses will discuss how that day unfolded, and what they saw as they defended the building against the rioters who flooded in, seeking to confront members of Congress.
Read More
Since President Joe Biden first ascended to office flanked by the barest effective Senate majority — an evenly split chamber and Vice President Kamala Harris' tie-breaking vote — one Senate rule has earned more ink than any other: the filibuster. In its current form, the filibuster demands 60 votes to proceed to debate on most legislation.
Read More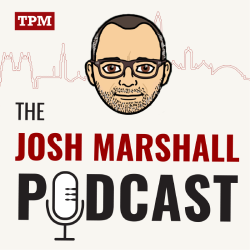 Ep. 183: Burdening The Vaccinated
Josh and Kate discuss infrastructure progress, the January 6 investigation and the COVID pandemic still raging among the unvaccinated....